In case you haven't heard, the stock market is temporarily fucked. It seems as if Trump's
tweets
act like economic nuclear missiles whenever he mentions China or anything for that matter. Here's an update this past week as tensions in the market reach an all-time high.
The DOW might as well be called the DOWN.

— AAMIR (@LORDJAVED) August 25, 2019
As of late, I know this is a sensitive subject for stockholders. If you're involved in the stock market, this is probably how you feel towards Trump right now...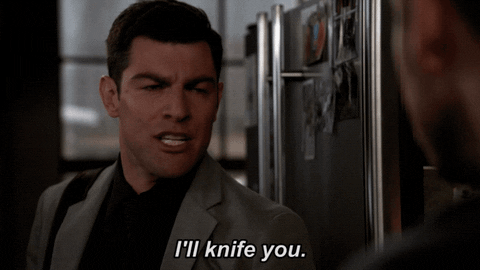 Trump recently called out China for years of massive tariffs. He claims that China and other countries have been taking advantage of the United States in terms of economics, theft, and
much
more
(
via @realDonaldTrump
)
.
For many years China (and many other countries) has been taking advantage of the United States on Trade, Intellectual Property Theft, and much more. Our Country has been losing HUNDREDS OF BILLIONS OF DOLLARS a year to China, with no end in sight....

— Donald J. Trump (@realDonaldTrump) August 23, 2019
....Sadly, past Administrations have allowed China to get so far ahead of Fair and Balanced Trade that it has become a great burden to the American Taxpayer. As President, I can no longer allow this to happen! In the spirit of achieving Fair Trade, we must Balance this very....

— Donald J. Trump (@realDonaldTrump) August 23, 2019
...unfair Trading Relationship. China should not have put new Tariffs on 75 BILLION DOLLARS of United States product (politically motivated!). Starting on October 1st, the 250 BILLION DOLLARS of goods and products from China, currently being taxed at 25%, will be taxed at 30%...

— Donald J. Trump (@realDonaldTrump) August 23, 2019
DJT's plan is devised to bring jobs back to the United States. Some believe Trump is skewing the market for personal gain, whilst that may be true, keep in mind that this has been an ongoing battle for years long before Trump.
Now, if you are a day-trader or simply own a chunk of stocks, you probably took a hit. For what looked like a good week in the market–soon turned to shits.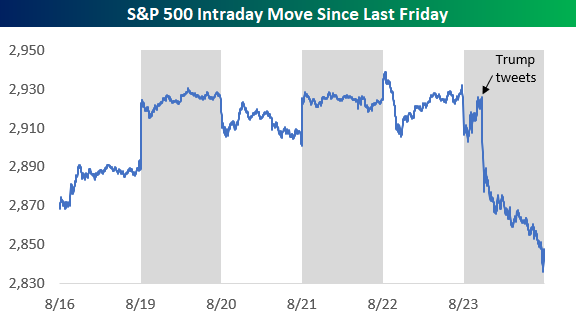 Right now the stock market looks scary, but I feel with time this could be good for our economy in the long run. Trump is trying to make everything from the United States–United States-based. We'll see what happens this upcoming. I
t's gonna get a hell of a lot uglier before it gets pretty.