BREAKING NEWS: Sacramento King's Center, Willie Cauley-Stein wants out. There were reports from his agent Roger Montgomery that "based on how things have gone for him there in Sacramento, I just think it's time for Willie to move on and we'd really like him to move on" [
SacBee, 2019
]. Oof.
Here are his stats from playing with the Sacramento Kings in 2018-2019.
And I oop..
I've enjoyed the four years of having Willie Cauley-Stein, he was a class act. Even though at times it looked like he didn't mesh well the Kings, he never gave up. Young Willard had a prolific career with the Kings, but he hasn't played to his full potential of what he could possibly be, and a lot of fans saw that. I believe his full potential will unlock when he's with the right squad. Unfortunately, Sacramento isn't that squad. There's no doubt Willie can help a lot of NBA teams out. I always believed that we needed a bigger guy that could space the floor, whilst running with the quick offense led by PG De'Aaron Fox.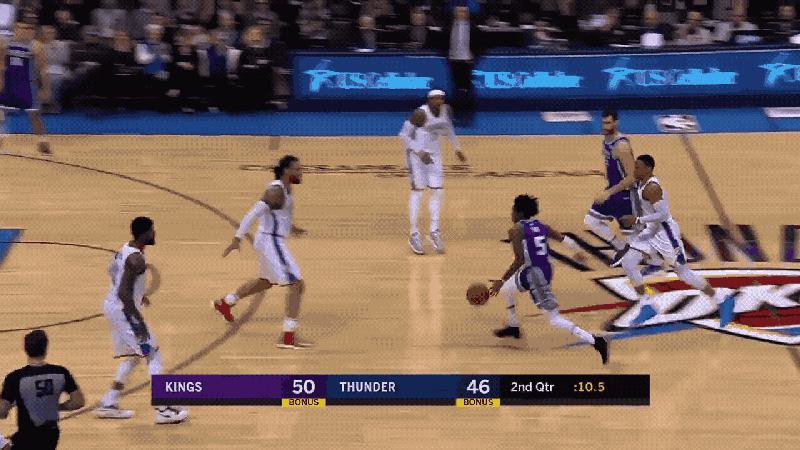 De'Aaron Fox being nasty.
This may seem like it hurts us in the now, and maybe it does, but this also opens the doors for another star. I'm talking to you,
Steven Adams
. If the Sacramento Kings want to run DEEP in the playoffs, the missing piece is Aquaman. If the Kings want to for sure lockdown playoffs EVERY year, the missing piece is Aquaman. There's so much that Steven Adams does which goes unnoticed on paper. I recently did an article on why the Kings need to start making phone calls to OKC. You can find that article here
https://www.oldsportrepublic.com/2019/06/okc-steven-adams-on-trading-block-why.html
. In my eyes, there's no one else on the market that fits this team better. Our team is young, the time is now.
Though it looks most probable that we will be parting ways with Willie Cauley-Stein due to recent events, the man will truly be missed. I wish him the best wherever he signs.
Thank you Willay.